NEWS
UFC Spotlight – The Rise of Jorge Masvidal
One of the best things about UFC, much like any sport, is when someone rises from anonymity into fame. From a match that looks like a filler fight, the audience gets hyped in a matter of seconds and starts paying attention to someone who was a nobody at that point. Such is the story of Jorge Masvidal, who is one of the top fighters in UFC today. It is for that reason that we want to go over the story of Masvidal, go back to the match when he was noticed, and how he started his career in UFC – the most famous mixed martial arts championship being closely watched by bettors who are using Virgin bet sign up offer.  
Masvidal vs. Ben Askren
This fateful welterweight match took place in Las Vegas during UFC 239. Nobody present knew that they were in for a spectacle, so the audience was calm with only a murmur here and there. Jorge was confident, and he smiled at his opponent as if he already knew the outcome.
The bout commenced and in a second it was all over. All it took was Masvidal's flying knee to the head, and it was lights out for Askren. The audience went into a frenzy and the echoing ovation filled the stadium, because they all witnessed the shortest fight in UFC history, but more importantly a birth of a star. Imagine devoting your life to training, honing your body and fighting instincts as much as possible, and have all of that taken away in just a second by someone who is your peer at that point. It's like waiting for a match to start and in a blink of an eye you are already lying on the floor defeated trying to figure out what happened.
One of the reasons why the match ended as it did could be attributed to Jorge's fighting style up until that point. If Ben has studied his opponent carefully, he definitely did not anticipate a flying knee to the head.
The story of Jorge Masvidal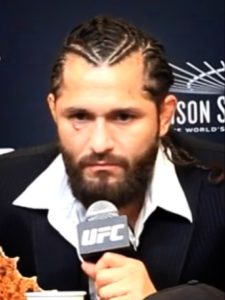 Jorge was born in 1984, his mother moved to the US from Peru and his father was from Cuba. They were both immigrants at the time, so Jorge was moving frequently with his mother during his childhood. His dad was sentenced to 18 years in prison for drug trafficking when Masvidal was just a 4-year-old boy, so he did not spend much time with his father. His mother told him his father is away in the army and it wasn't until Jorge was 13 that he found the truth, and went to visit his dad.
Growing up he was vigorous and filled with energy, so fighting was one of the ways to channel this alacrity. Jorge did not shy from standing up to bullies and learned how to take punches early on. It is at the age of 14 that he started training or learning how to fight in a boxing gym. Soon after, he took up karate and aimed to get into a school team for wrestling. Unfortunately, he could not make the school team as his other grades were low.
At the age of 18 he had his first mixed martial arts fight and he knocked out his opponent during the first round. It is also around that time that he met Paulino Hernandez, who is his coach and one of the most important people in his life.