BLOGGING
5 Tips for Starting a Successful Blog
The Internet has allowed practically anyone to be able to express themselves freely, in any way they see fit. People can do so by creating various kinds of content; a good example of this is vlogging, which has become very popular over the past ten years. However, one type of content still stands strong and remains a reliable way of creating and publishing content online –blogs. Anyone can make a blog with tools that are relatively cheap or free, you do not even need any experience for it. Still, there are some things you should take into account if you are looking to start your own blog if you want to see it become successful. Without further ado, here are five tips to consider if you want your new blog to become successful.
1. Choose a good platform
This is the first challenge that new bloggers are faced with. There are quite a few platforms, and it might be difficult to choose one to base your blog on. If this is your first time, you might want to consider a free platform, where you can try and experiment with various options and themes, until you learn the ropes of the blogging world? Popular options include Blogger, WordPress, Tumblr, and many others. For your first steps, you might also want to consider some tutorial videos on starting your blog.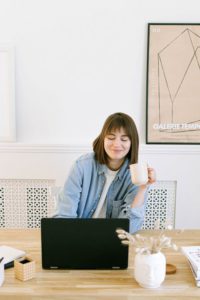 2. Find your topic
It will be very wise, once you have found your platform of choice (or even before that), to think about what you are going to write about. Keep in mind that there are countless blogs out there; you need to offer something that will separate you from the rest. Usually, it is a specific topic (also called a niche) that few bloggers cover, and which will attract people who are interested in it. Remember, the more general your topics are, the more likely it is that you will get lost in the sea of other general blogs.
3. Be passionate
This sounds like a cliché, but passion and genuine interest are things that are reflected in your work, both on a conscious and an unconscious level. In other words, start a blog about a comfortable topic you have something to say about. If you cover topics just for the sake of it, or if you are not interested in blogging, the quality of your content will diminish quickly, which can reduce the number of visitors to your blog.
4. Encourage participation
You should view your blog as a marketplace, rather than just a web page people visit and leave. If you encourage people to interact with your content, by making comments and suggestions, or any kind of feedback and contribution, they will feel more engaged, and they will be more likely to visit your blog in the future.
5. Do not be discouraged
You are going to come across some dry spells, negative feedback, and lack of inspiration, but the important thing is not to let that get you down. The ability to weather through these problems is exactly what makes a good and successful blogger.